When it comes to Kosher wine, we believe Israel offers the best.
At Avi-Ben you will always find the top wines under this category.
Not to belittle various wines coming from Napa valley or versions of famous "Bordeaux's", among Israel's best wines most are kosher, coming from all-Kosher wineries, and non are made kosher by being "Mavushal".

This is the flagship wine of Yatir Winery.For making this wine use the best plots of the best vineyards in each particular vintage.The emphasis is on the intensity of the fruit and the aging potential.The varieties that make up the blend may vary from year to year depending on both the vintage and the winemakers objective to make a wine which best represents the unique Yatir terroir.The wine is aged up to 18 months in small French oak barrels and then has a further year's bottle age before release.It has a deep purple-red color,an aroma of ripe forest fruits and a concentrated taste.
This is Carmel's flagship wine. It is a Bordeaux style blend made in an 'old world', elegant style. The grape varieties are Cabernet Sauvignon, Petit Verdot, Merlot, Malbec and a little Cabernet Franc, all from the Upper Galilee. The wine was aged for 15 months in small French oak barrels.
Deep purple in color, Carmel Limited Edition has an aroma of black plum, violets, and tobacco leaves. It is full bodied, but shows extraordinary elegance and an excellent balance between fruit, tannins and acidity. The wine will continue to improve and develop in the next few years. The drawing on the label is of Carmel's Rishon Le Zion Wine Cellars
Domain du Castel, Grand-Vin
Maybe the most known Israeli wine outside the borders of the country, combines the elegance of the Bordeaux grape varieties and the richness of ripe fruit, generosity of the Israeli sun.The blend is always a majority of Cabernet Sauvignon and the rest, in order of importance is Merlot, Petit Verdot, Cabernet Franc and Malbec. The blend is not exactly the same every vintage but the proportions between the varieties remain the same. The wine is aged in 100% new French oak for 20 to 24 months.
Barkan Superieur Cabernet-Sauvignon
Maybe the best wine ever created by the famous domain, full-bodied, dense, well-balanced and delicious.
Each bottle is hand-numbered to example its uniqueness and extent of effort in making this wine special, well, so it is.
This wine is ready to drink no, and will keep very well up till the mid. of next decade.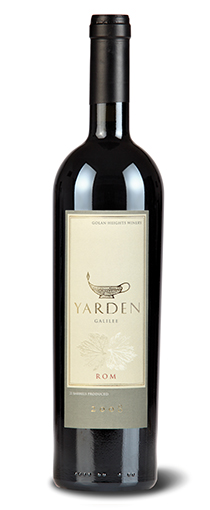 Recanati Special Reserve is the winery's Flagship wine. The making of this wine involves combining the best grapes at one's disposal each year with the newest and best oak barrels, meticulous attention to the smallest detail and an enormous amount of love and patience.
The result is a harmonious, rich and full-bodied wine with intense tannins and a balanced acidity that provides the wine with long-term aging potential. Flavors and aromas of black plums And black cherries, along with the spicy nuances developed during 19 months barrel ageing in new French oak, followed by a tantalizingly long aftertaste define this wine.
Produced only in exceptional vintages. Varieties aged individually in new French oak barrels for 18 months. The final blend is then put back into barrels for an additional six months aging. Layers of ripe cherry,blackberry, plum and cassis, with rich oak, vanilla, spice and chocolate notes.Exceptional depth and complexity.Though difficult not to open now, the wine will continue to improve in the bottle for years to come, and should stay in excellent drinking condition for 15-20 years from the vintage
Yarden Cabernet Sauvignon El Rom Vineyard
Yarden Cabernet Sauvignon El Rom Vineyard aged in French oak barrels for 18 months, presents attractive cherry, blackberry and cassis fruit notes, layered with characters of pipe tobacco, spice and chocolate. This age-worthy wine is rich, complex and full-bodied.While delicious now, the 2009 Yarden Cabernet Sauvignon El Rom Vineyard is best enjoyed after a few years in the bottle, and should remain in excellent drinking condition for a decade or more
Yarden Rom shows off seductive aromatics of cherry, blackberry, cacao, orange blossom and warm spices. Upon entry to the mouth, the wine reveals attractive flavors of ripe fruits, smoke, dark chocolate, and cassis, rounded out by hints of mineral and anise. Dark red-purple in color, the wine features great body with very good length.Although the wine's flavor and balance make it enjoyable now, Yarden Rom will continue to improve in the bottle over the next few years and remain in excellent drinking condition for more than a decade from vintage.Yarden Rom is made up of Syrah, Merlot and Cabernet Sauvignon. All fruit is harvested from our finest vineyards in the central and northern Golan Heights. The wine aged in French oak barrels for 21 months and was bottled without filtration.
Flam Cabernet Sauvignon Reserve
The Flam Cabernet Sauvignon is the product of endless thought and careful planning, which represent the zenith of quality level attained at Flam. This wine displays a combination of intense aromas, ripe cherries, blackberry, plums, black currants and opaque purple color which are the hallmarks of a true Cabernet Sauvignon. Additionally, the oaky aromas present due to aging in new French oak barrels, such as vanilla, chocolate and spices blend into the wine seamlessly. The long maturation of this wine, ranging 16 to 18 months in new and one year old French oak barrels, followed by 12 months in the bottle, creates a sumptuous wine worthy of long term cellaring. The wine is characterized by copious fruit flavors, full body, generous texture and deep color
The unique composition of the Coupage expresses the synergy between three varieties of quality wines. The wine has aged 12 months in new French oak barrels. Firm solid and concentrated. Opens to show intense, caressing and generous aromas and flavors of berries, black cherries, currents and bitter chocolate and on the long finish, a hint of crystallized fruits. The wine is deep in color and mouth – filling: it envelops the palate with a rich fruity aroma.
Misty Hills is produced only in excellent vintages from the winery's best vineyard plots. The wine's name is a tribute to the morning mists that often lie upon our vineyards. These mists form as warm air from the Mediterranean collides with cool air descending from the mountains. Planted in stony soils along the slopes of the Judean Hills, vineyards are uniquely located to take advantage of this climatic phenomenon